Selling tickets
creating an event & selling tickets | scanning tickets | How much does it cost?
It's very easy to sell tickets with ntry. Simply create an event, and off you go!
To promote your event in the best way, NTRY makes multiple tools available to you
You can incorporate and sell tickets directly on your websites – the integration is done easily using iframe/javascript. We also provide you with QR-Codes, which you can put onto your flyers or posters – they lead directly to the ticket sale.
CREATING AN EVENT
Enter the ntry.at-website, go to "My Events" and choose CREATE NEW EVENT.
1 - EVENT INFORMATION
Fill in the EVENT TITLE. NTRY automatically creates a Short-URL under which the event will be found in the future (which might be changed manually). With EDIT DETAILS you can also add additional information.
Next up are DATE & STARTING TIME. If necessary you can also type in your own starting time.
VENUE & LOCATION of the event. On NTRY you can find (via Google Places) numerous event venues – simply click and select them!
2 - TICKETS
Now it's time for the tickets: You can add several categories (Floor, Seat, VIP, Early Bird…) and assign contingents as well as individual prices for each one.
With the Ticket Calculator, you get details about the actual sums you will receive when selling your tickets.
You can add further options to your ticket presale - for example, the maximum number of tickets that can be emitted for each purchase (default value: 5). You can personalise tickets (in which case the customer will have to state e.g. his/her name, which will then be visibly printed on the ticket) and enter instructions for the customer (e.g. that the festival tickets must be exchanged for bracelets to be valid). These instructions will appear at the bottom of the page on printed tickets.
With the "Ticket Image" you can style each entry ticket as you please. (Making sure not to upload copyrighted images of others!) The picture uploaded will appear on the printed tickets as well as in the ntry app.
For a better overview, we give you the possibility to oversee other ticket sales as well, under MANAGE EXTERNAL QUOTA: Here you can keep an eye on presale points and quotas.
3 - PUBLISH
Publish your event on ntry.at

By clicking PUBLISH your event will be visible for all users on ntry.at. In some cases you might decide in keeping your event private (not publish)

Promote the ntry.at-Ticketshop on your posters, flyers etc.

Press CREATE QR-CODE and get your direct 2D-link to your ticket sales page on ntry.at for embedding on your printed adverts, posters, flyers etc.

Embed your NTRY-Event Ticket Shop in your Website

With EMBED IFRAME you can easily create and design a ticket-shop widget. Grab your iframe-Code to embed it on your website and use the preview feature!
EVENT OVERVIEW
The outline above your created events gives you a review on your events ticket orders and sales, based on an easily understandable colour code. The coloured bar displays various quotas and sales. The stats underneath indicate your actual assets in numbers (turnover, sold tickets, etc.)
With EDIT you can update your event, manage your ticket quotas and fill in additional information at any time. In the TOOLS area you can quickly install and make use of our marketing tools.
Any questions? support@ntry.at
VALIDATING TICKETS
To validate your event tickets, you simply need a smartphone with the installed NTRY Scan-App. The App is available free of charge for iPhone and Android smartphones (or any other iOS/Android mobile device). You can carry out the operations from your own mobile device, or execute them from any other phone or tablet (eg. your staff's).
Log into the app with your NTRY account info and select the upcoming event from MY EVENTS.
You'll quickly develop a comfortable feeling for the scanning process: Hold the scanner at a steady distance of 7-10cm above the ticket to be scanned. Use if necessary the options FOCUS (for focusing) and TORCH (in case it's too dark).
The smartphone vibrates during the scanning process to indicate that it's active. The display shows whether a ticket is valid (green check mark) or invalid (red cross), making a distinct signal. On the display you will see whether the scanned tickets are valid for one or more persons, respectively.
In addition, you always have, right at the bottom, the overview on how many ticket holders were already scanned and how many are (or should be) coming altogether.
IMPORTANT:
Scanning usually works easily even under harsh conditions – it is however best if you ensure there is the necessary amount of light in the entrance area and that the smartphone (mobile device) is fully charged.
FALLBACK SOLUTION
Aside from the Aztec-code, each ticket also has an multi-digit code with letters - clearly visible both on the print@home and on the app ticket.
On the respective event pages in the NTRY admin area, under TOOLS, you can easily print a list of these codes after presale has ended. If, for any reason, it is impossible to complete the scanning process this list offers an analog" alternative to determine whether a ticket is valid or not.
HOW MUCH DOES IT COST?
No costs incur for the use of NTRY ticketing and the creation of events.
Only in the case of tickets successfully sold over the system will a share (10%) of the retail value be withheld. (Please note for very low admission prices: The minimum charge per sold ticket amounts to 0,60 Euro). You will generally be billed within a few days after the event
PREMIUM
The NTRY PREMIUM Service offers numerous advantages, reductions and tools to regular promoters:
Premium customers already start off with a reduced 8% rate (for standard customers 10%) for successfully sold tickets and have in addition the possibility to reach bonus levels - with an appropriate sales revenue - and reduce percentages (see graph).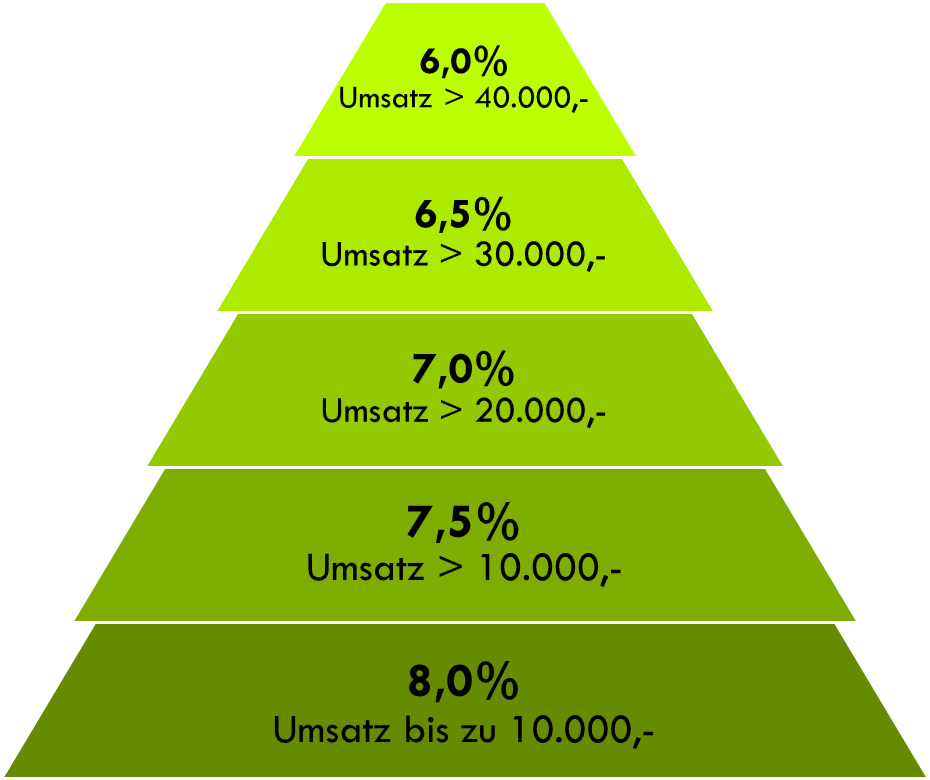 If you've reached a turnover limit, your reached level will apply for at least a year.
The ntry Premium Service also provides the promoter with further opportunities and services:
Prompt your ticket buyer to subscribe to your newsletter and get access to the information and e-mail addresses of your customers.
Detailed statistics
Personalised tickets for increased security
Output of physical tickets (with/via us)
No particular conditions for acquiring a PREMIUM Account are required.
The Premium Service costs € 25 a month or € 199,- a year.
Interested in getting a NTRY PREMIUM Account? sales@ntry.at